In giosg.com's earlier blog, we gave a real world example of what happens when the online stores' buying process does not match the buyer's individual needs. In that specific case the problem and the reason for abandoning the cart — was the lack of insurance related information. Had the buying process been truly personalized for the buyer, he would have received all the relevant information about insurance at the very first step of the buying process. This is something that could have been easily accomplished. Making a pop-up to inform a customer about something is not difficult, quite the contrary, we already have all the knowledge and tools to do it today.
In an online store, shopping process (from landing page to thank you — page) consists of eight different categories. These categories, starting from most dynamic one, are:
Promotions (e.g. Discounts)
Services (e.g. Financing)
Delivery Terms (e.g. Free delivery)
Inspiration (e.g. Video & pictures)
Add-ons (e.g. Supplementary products)
Payment (Payment methods like credit/debit card etc.)
Shopping basket & checkout (Overview of the shopping basket content)
Product (e.g. Product information and Availability)
The first four categories; Promotions, Services, Delivery Terms and Inspiration, are the ones where personalized shopping experiences can be created in a more simple and easy way, whereas, trying to personalize the last four categories requires more time, money, and effort. For example, setting up a discount code pop-up for promotional purposes is a relatively simple task compared to implementing, for example, a new payment method that usually calls for cooperation with the finance department.
In this blog we will focus on the first four categories as they are the ones where most of the actions can be created so that they run on top of the website and as such are easy to implement. Also, optimizing these categories will give you a head start in the battle against shopping cart abandonment.
Just follow this three step process to get started:
1. Innovate
Start with innovating different actions under each four categories. The picture below includes some broad ideas. You may look for inspiration from your competitors' websites and also outside your industry. Feel free to be creative and think outside of the box!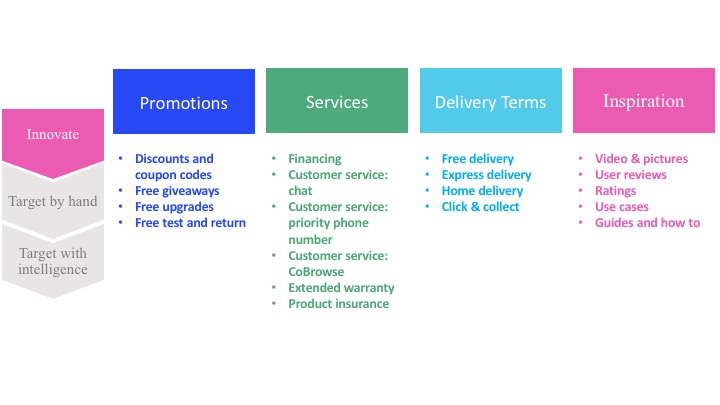 2. Target by hand
After creating all these different actions you could use, the next step is to target them manually. This is done by using contextual targeting to match the right action with the right visitor. To be more precise, you use the knowledge you have collected about the visitor to define the conditions that need to be met to trigger an action. This can mean, for example, that the visitor's current or previous URL contains a keyword, visitor arrived from a certain site (like Google), visitor has previous visits, and visitor's shopping cart is valued over given value.
NOTE! You don't have to use just one condition, it is actually better to combine them using AND or OR rules. And remember, some actions also cost you. You do not want to target those actions to everyone so be specific. An example of a great trigger is targeting expert help (live chat or priority phone number) to someone who has been influenced by an ad campaign and has for some reason stopped on one of the campaign pages.
Above is an example on how to target an action. The visitor has started going through checkout process but for some reason, backtracks from the checkout process and returns to the product page (current and previous URL, conditions number 1 and 2). This visitor is now in danger of abandoning a shopping cart worth 350€ (condition number 3), which is high enough value for justifying giving discount. Also, we know that visitor is using a desktop computer (condition number 4, there is a different action for mobile users). Now that all these conditions match, a visitor will receive a pop-up offering a free express delivery if an order is placed within next 15 minutes.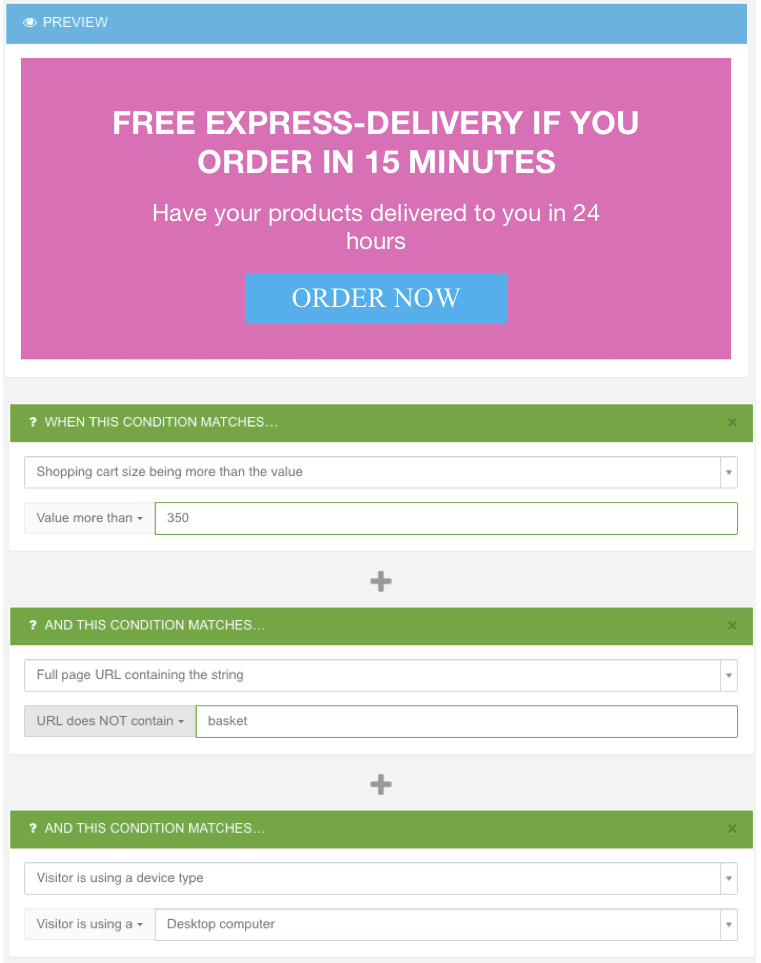 3. Target with intelligence
At the point, when you have gained positive results from targeting actions by hand, and you have accumulated a good amount of data, it is time to move on to the third and final step, intelligent targeting. With intelligent targeting, you first innovate an action (for example 'free delivery' like in the previous example). Next, you define the goal you want to reach with this action. In an online store, the goal usually is getting the visitor to cross the finish line, all the way through checkout process. After this you can just sit back, relax and let machine learning do the targeting for you.
The behavior of each visitor is analyzed in real time using sophisticated machine learning algorithms. These algorithms can identify certain behavioral patterns that can be used to target the visitors who can be affected positively by triggering the selected action. Meaning that only the visitor who wouldn't otherwise makes a purchase is presented with a discount coupon or some other action. Furthermore, as machine learning is also capable of recognizing those visitors that would not buy no matter what and those who have already decided to buy, it knows better and leaves them in peace. The benefits for an online retailer are increased conversion rate and reduced shopping cart abandonment.
My part of @giosgCom's workshop at #IRX16 in form of a blog post:
How to Fight Against #ShoppingCartAbandonmenthttps://t.co/G2aqWXYZFt

— Ilkka Vertanen (@IlkkaVertanen) May 9, 2016
— -
Note: This blog has been published May 9, 2016 in giosg.com blog and has since been edited for clarity. See the original here.