Live chat is a great tool for communicating with prospects and customers online. These communications can be divided into two categories: those started by a website visitor, called reactive chat, and those, initiated by the company, called proactive chat. This blog approaches proactive chat as a sales tool, but it can as well be used to increase customer service efficiency like Finnair has done.
What is a proactive sales chat?
Proactive live chat is a chat conversation initiated (automatically or manually) by the company rather than a website visitor. Instead of waiting for a visitor to begin chatting (by clicking on a chat icon and sending a message), messages are sent out to greet website visitors inviting them to chat.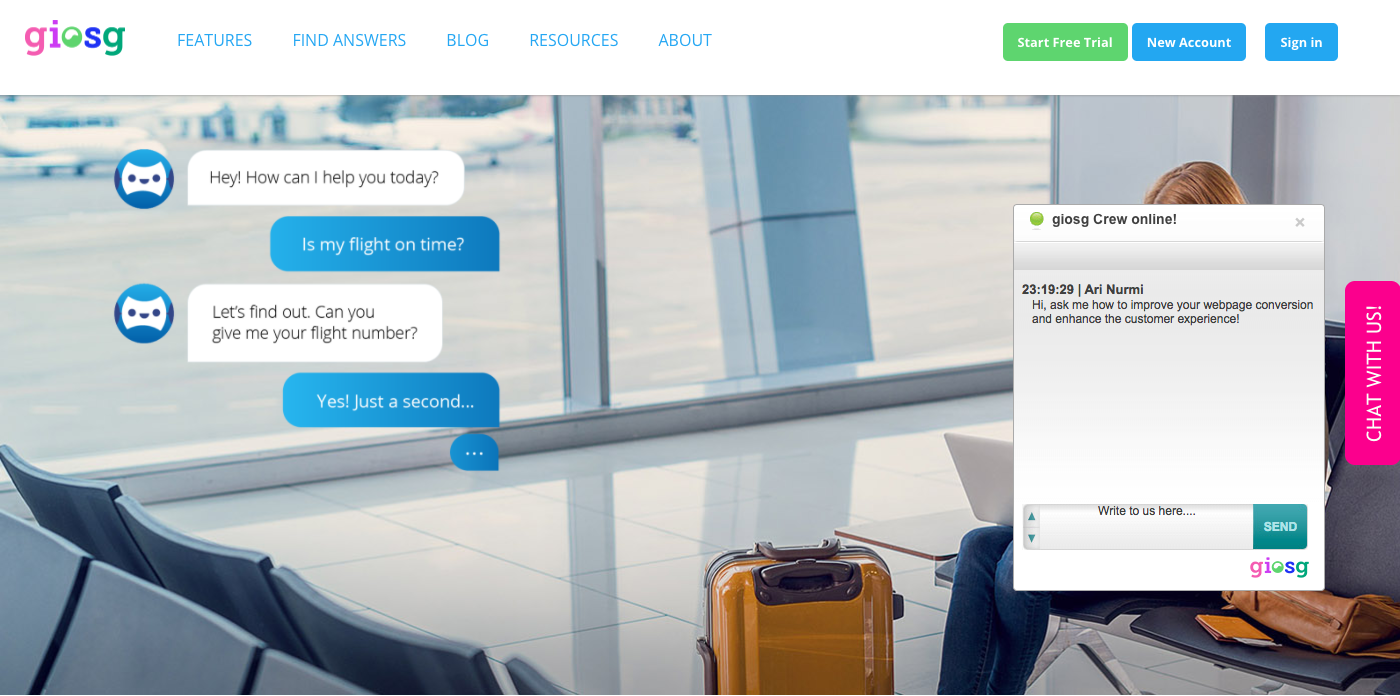 An example of a proactive chat message.
Okay great, why is this important?
Let's compare live chat to a phone call. Once your company's phone number has been posted on your website, you lose control. You have no control over who dials in. Next caller might be a new prospect, your most significant customer, or a cold-calling sales guy. However, the moment you pick up a phone and start dialling, you have (at least a vague idea) who will answer your call.
You are taking the control and making decisions to whom to reach out.
This same logic applies to live chat. Having a chat icon on your website enables people to "call you." Anyone on your site can dial in. By controlling the visibility of chat elements, you have limited control over who has access to chat. With proactive chat, you become the one controlling who gets invited to chat. You can now have better control over chat conversations your team ends up having. You exercise this control by targeting invites only to those visitors who support your business goal (more sales). Out of three basic principles for sales, proactive chat helps you to control the direction of your live chat operation (other two principles being quantity and quality).
Got it! Now how about my sales?
Let's agree that collecting sales leads is the business goal for your live chat operation. We presume that you have a website with contact us forms and call-to-actions rather than a full-blown e-commerce site. For example, this would be the case with most retail and business banks, estate agencies, and B2B service providers. We know, that in modern buying process potential customers do a big part of research independently and after researching contacts just a couple of suppliers. Service providers compete to be among those firms receiving that valuable contact or maybe even a requests for proposal.
Companies spent a lot of money and time to get traffic on their websites. Then they do their best to optimise the percentage of visitors clicking on CTA or connecting with sales team using contact forms, calls, and email — and maybe even by clicking on that live chat icon on the website!
They are being reactive. Aggressively waiting for new sales leads!
For each one of those visitors who contacted you, many did not. For various reasons, they decided not to reach out. Maybe they are not quite there yet, or your competitor's website is just a bit better at capturing leads.
Now enter a proactive sales chat. A bit hesitant prospect is reading your blog for a fourth time considering if your offering would be beneficial for their business. Once more, the prospect leans towards not contacting you. Maybe next time! Then a chat window pops up: "Hi there! I see that you are reading about one of our highly praised services. Would you like to know a bit more?" This message prompts a chat conversation resulting in a warm lead for a hungry sales team. At the same time increasing tremendously the likelihood of your company being among those companies receiving RFP when the time comes — maybe even the only one receiving it!
Now add a multiplier. Dozens or hundreds of sales-focused chat conversations! How would they impact your sales funnel?

Sales Funnel — Website visitors into customers.
Let's run some numbers (an example of a B2B service provider, not taking sales cycle in the account):
Website visitors: 65,000 pcs / month
Targeted live chat captures 1% of visitors.
Sales-focused chat conversations: 650 pcs / month
Hit rate, chat conversation to a lead: 25%
=> New leads: 162 pcs
And these leads go through the sales pipeline:
Average deal value: £2,500
Hit rate, lead to deal: 10%
=> New deals: 16 pcs / month
==> Increase in revenue £40,000 / month!
Now run this exercise with your numbers (<- link to a calculator). Isn't it crazy how big of an impact a small nudge can have? Let's do your website and sales funnel next, shall we?
#LiveChat can be a lean, mean #sales machine!
Read from my blog why you should invest in sales-focused live chat.https://t.co/hqbS5osngj

— Ilkka Vertanen (@IlkkaVertanen) February 28, 2017
---
This blog has been published Feb 28 2017 on LinkedIn Pulse. See the original here.