In my earlier blogs, I have written about three principles of a successful live chat operation, in detail about the most important principle (Direction), and given some practical examples for a sales chat. To build upon the examples provided in the blog post about Direction, I now describe how to use a proactive live chat to reduce calls to call centre, minimise errors in submitted forms, and fight shopping cart abandonment.
I cover for each of the examples:
How you find the right audience for the customer service chat.
How you approach relevant website visitors.
How you can measure the impact of live chat has to customer service.
Reduce calls to call centre
On average, solving customer issues in live chat is more cost-effective than handling same issues over the phone. To a great deal, this is so because on phone customer service representative can, at any given time, serve just one individual caller but with live chat one agent can multitask, with excellent service quality, up to 5 simultaneous interactions.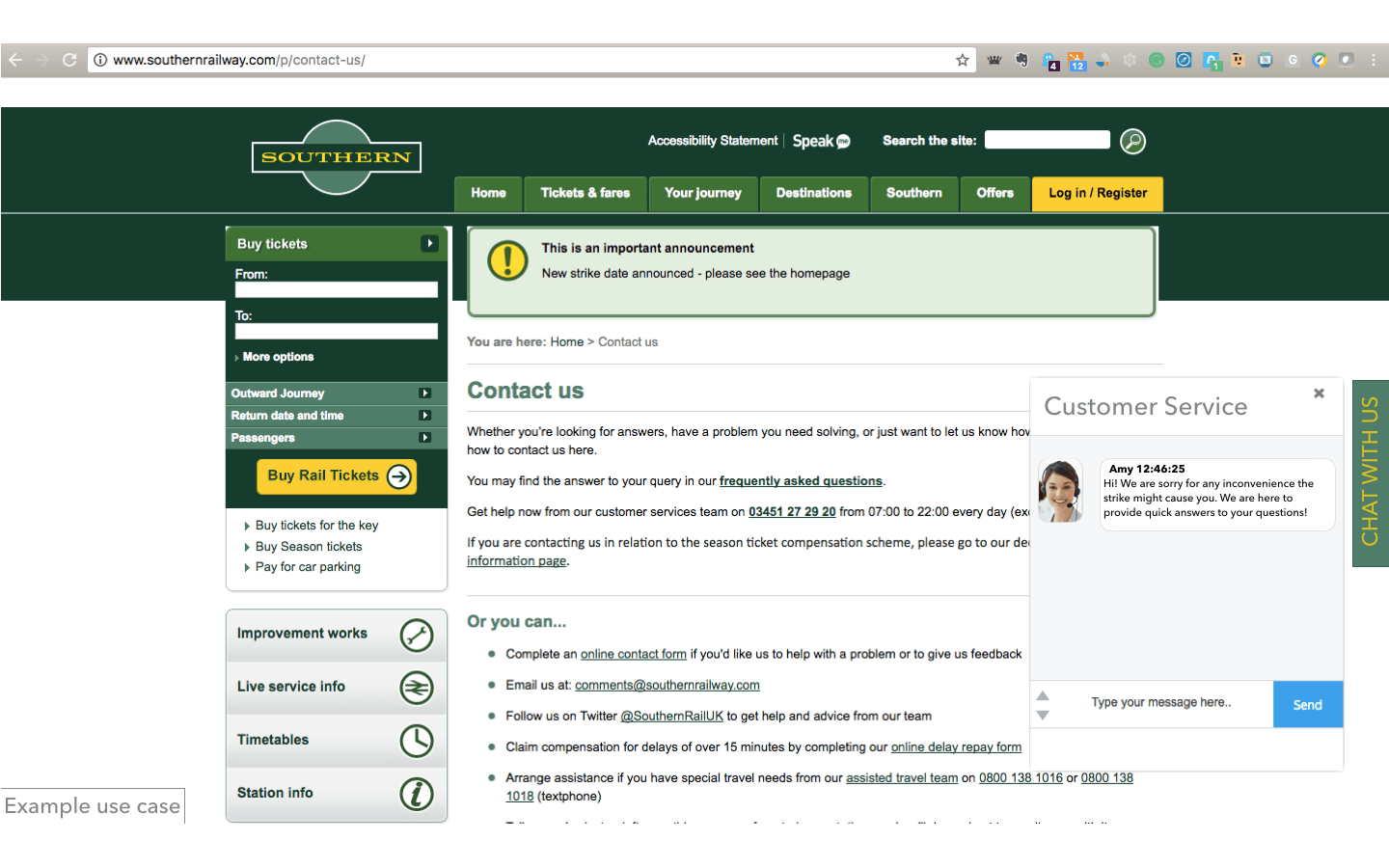 Proactive message on Contact Us page: "Hi! We are sorry for any inconvenience the strike might cause you. We are here to provide quick answers to your questions!"
Goal: Catch website visitor with live chat before (s)he calls to customer service.
Triggers: Visitor is on "contact us" page, and an important announcement is active.
Proactive message: Highlights chat as the fastest service channel regarding service disruptions.
How to measure: Total amount of interactions and % of interactions are through live chat.
Minimise errors in submitted forms
Misfilled forms are a major pain point (especially) for insurance companies. A mistake in submitted form means that someone needs to fix or redo the form before a claim can be processed. Fixing forms is manual work which means it is expensive to do. Hence there is value in helping customers to fill the forms correctly in the first place. Live chat can be triggered to help a customer, for example, when it is taking longer than normal maximum time for the customer to make his claim. Oh, did I mention that one agent can assist with multiple claims at the same time?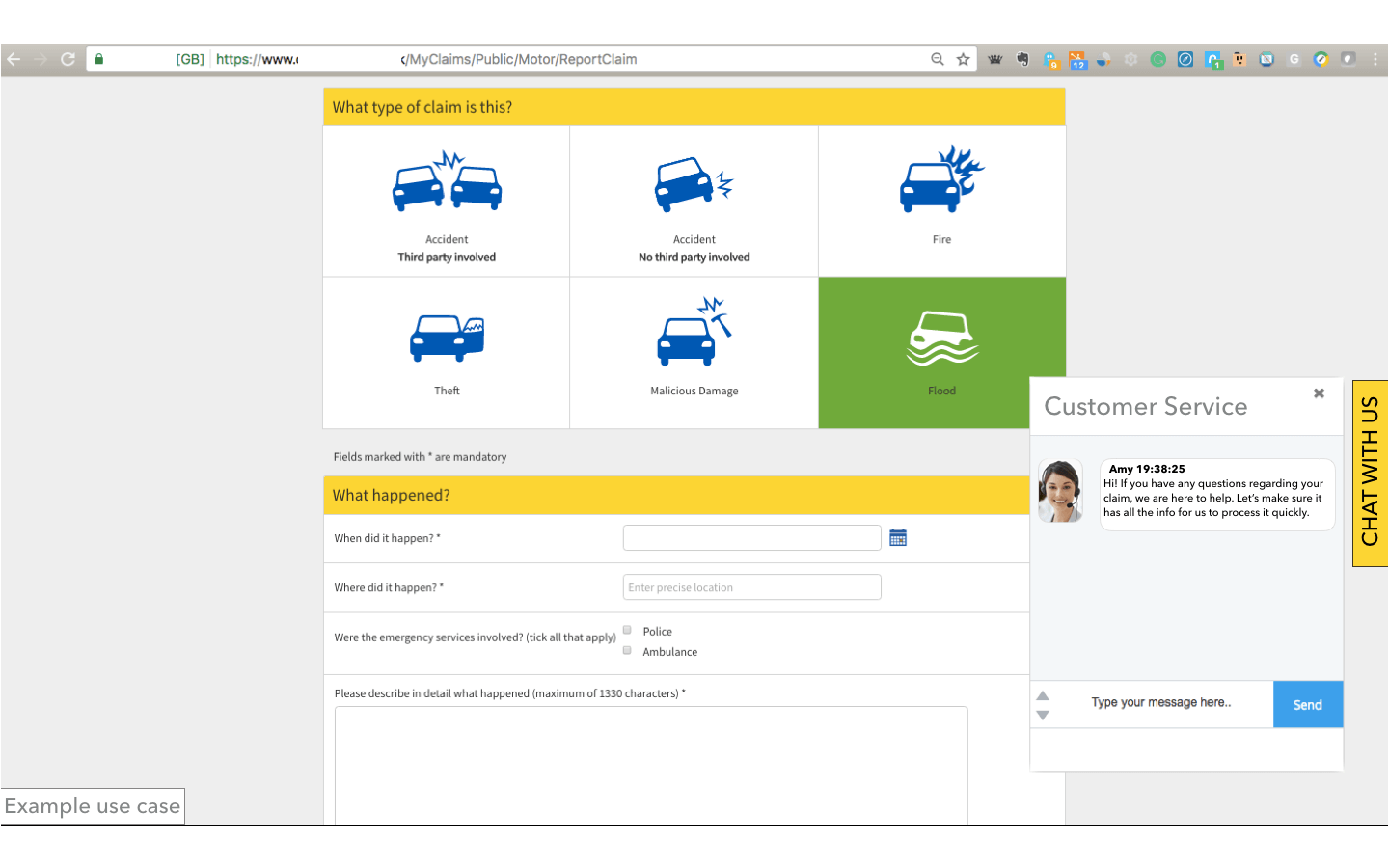 Proactive message for a customer making a claim: "Hi! If you have any questions regarding your claim, we are here to help. Let's make sure it has all the info for us to process it quickly."
Goal: Prevent customer from submitting a form with errors in it.
Trigger: Customer has started filling the form but spends unusually long time doing it.
Proactive message: Offers assistance with placing the claim. The message encourages the use of live chat with a promise of short processing time.
How to measure: Error rate in forms filled with chat support vs. average error rate
Fight shopping cart abandonment
Technical problems in online stores tend to drive potential buyers away (or even to competing sites)! Errors, as unfortunate they are, have a bright side as well. They offer a perfect chance for online retailers to provide excellent customer experience. Set up a live chat to trigger a proactive message upon noticing an error message on a web page. (This might sound technically challenging but it is usually surprisingly simple to do.) Customers do appreciate you looking after them and offering help at the right moment. Assist them when they have problems, and you do not just prevent them from leaving, but you win them over for a long time!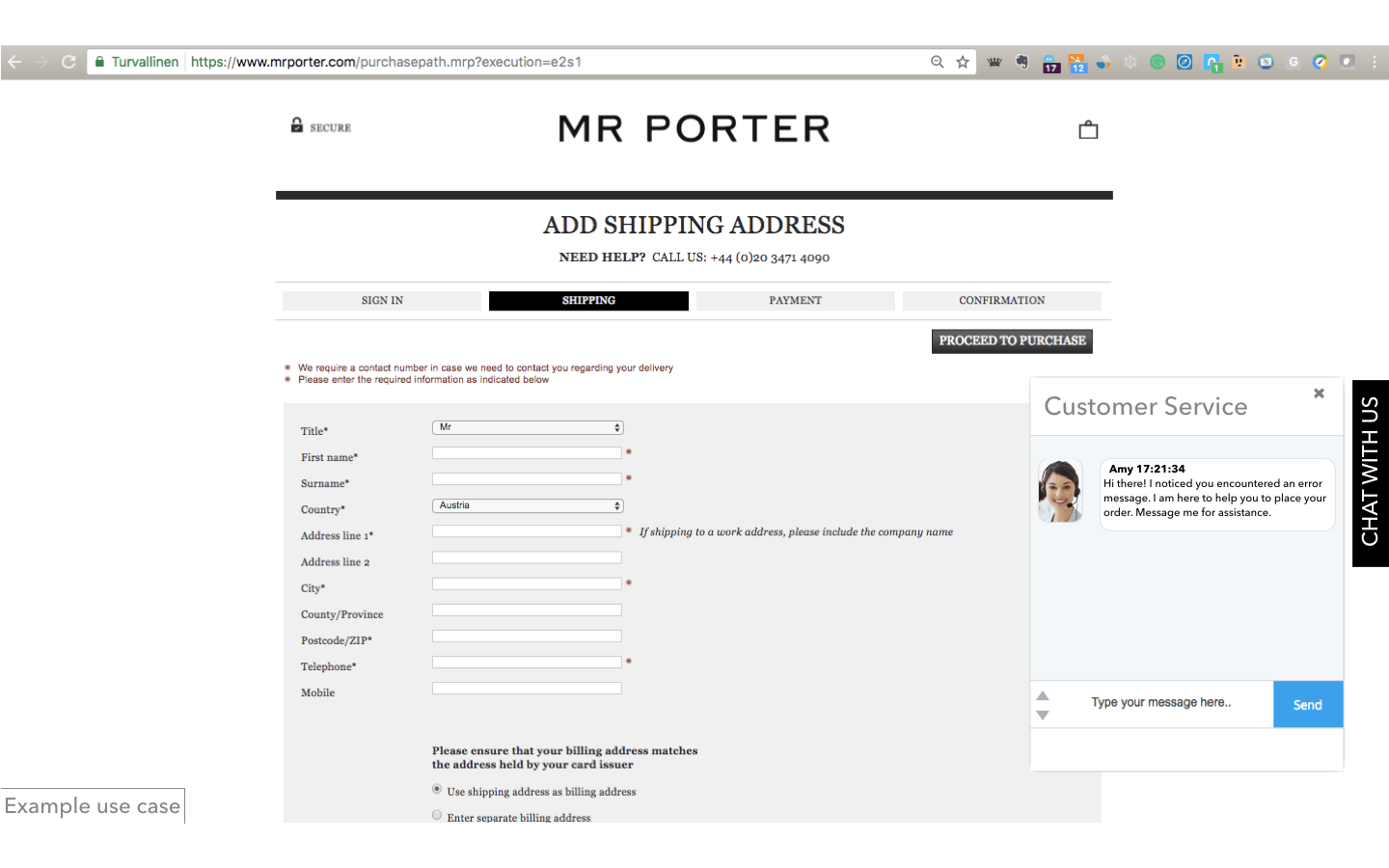 Proactive message when an error occurs: "Hi there! I noticed you encountered an error message. I am here to help you to place your order. Message me for assistance."
Goal: Provide assistance to the buyer, so she does not abandon her cart.
Triggers: Visitor has started the checkout process
, and an error message has appeared on the page.
Proactive message: Offers support for placing the order. Indicates that customer service knows what is wrong making it easier and faster for the buyer to ask help.
How to measure: % of chats started during the checkout process is connected to a completed purchase.
By the way, these same tips are also available on SlideShare:
I hope these examples help you to set a direction to your customer service chat. Do you have a use case not covered here that you would like to share? Post it into comments or get in touch!
---
This blog was originally published on LinkedIn Pulse (May 7, 2017). Read the original here.