In my earlier blogs, I have written about three principles of a successful live chat operation and in detail about the most important principle (Direction). To build upon the examples given in the latter blog post, I now describe how to use live chat to generate sales leads, convert users of a free plan into paying customers, and increase average order value.
I cover for each of the examples:
How you find the right audience for the sales chat.
How you approach relevant website visitors in a non-intrusive way.
How you can measure the performance of the sales chat.
Generating sales leads
The first example is about collecting sales leads using a proactive sales chat. In this example, sales chat is a tool for getting contact details from consumers looking to sell their property. The trick for an estate agency is to find sellers among rest of their website traffic. Here is one example how to do it (generally more than one rule is required for good performance).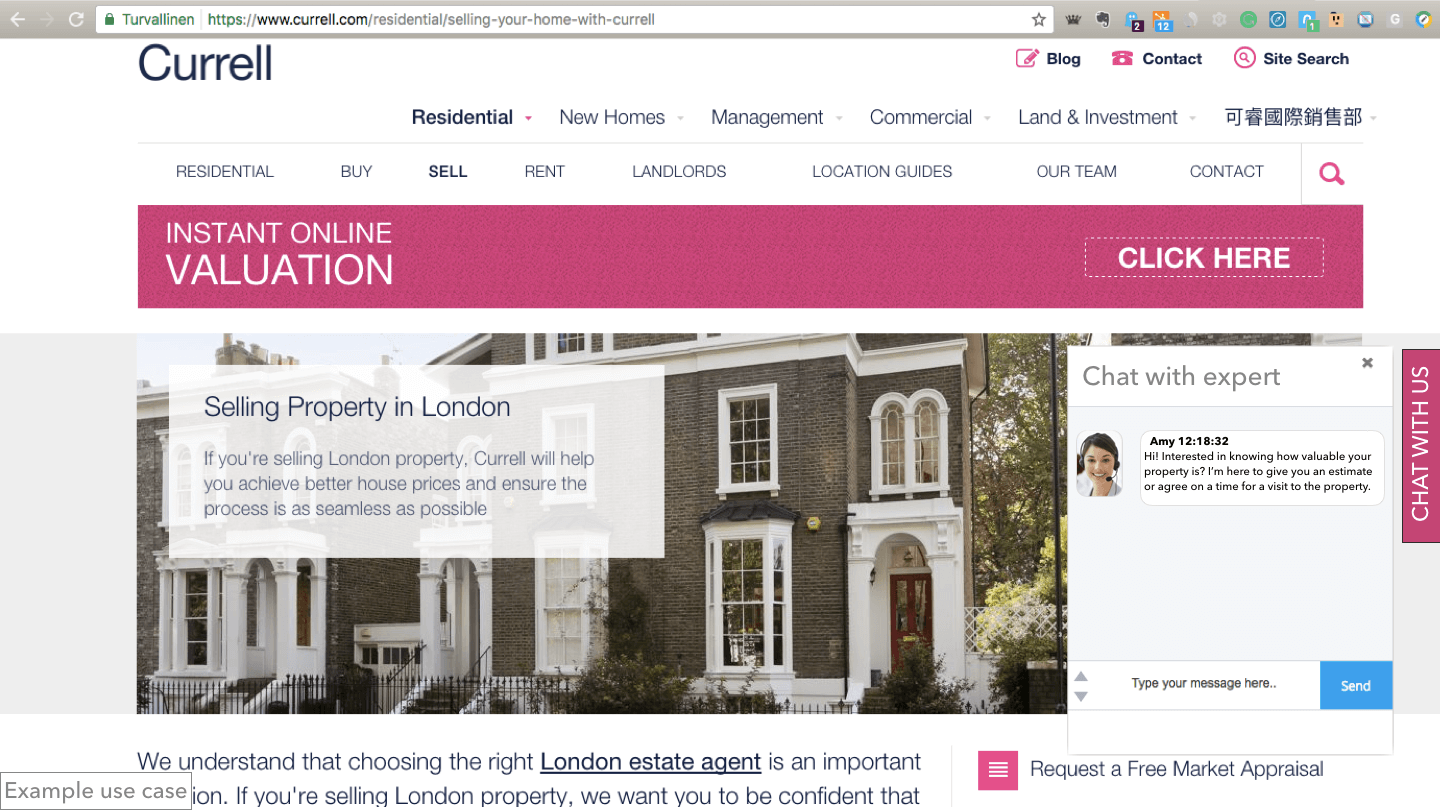 Proactive message on a selling page: "Hi! Interested in knowing how valuable your property is? I'm here to give you an estimate or agree on a time for a visit to the property."
Goal: Convert visitor to market appraisal (sales lead).
Trigger: Visitor lands on a selling related page.
Proactive message: Relevant for a seller, not for a buyer. Invites a bit hesitant seller to chat.
How to measure: Conversion % of chats to market appraisals.
Converting users into paying customers
A SaaS company can use live chat for converting free tier users to paying customers. In the example below, sales chat activates for a user who has reached the upper limit of the free service. The approach is not pushy towards the customer and offers assistance and new ideas, which (when implemented) push the customer to the paying tier.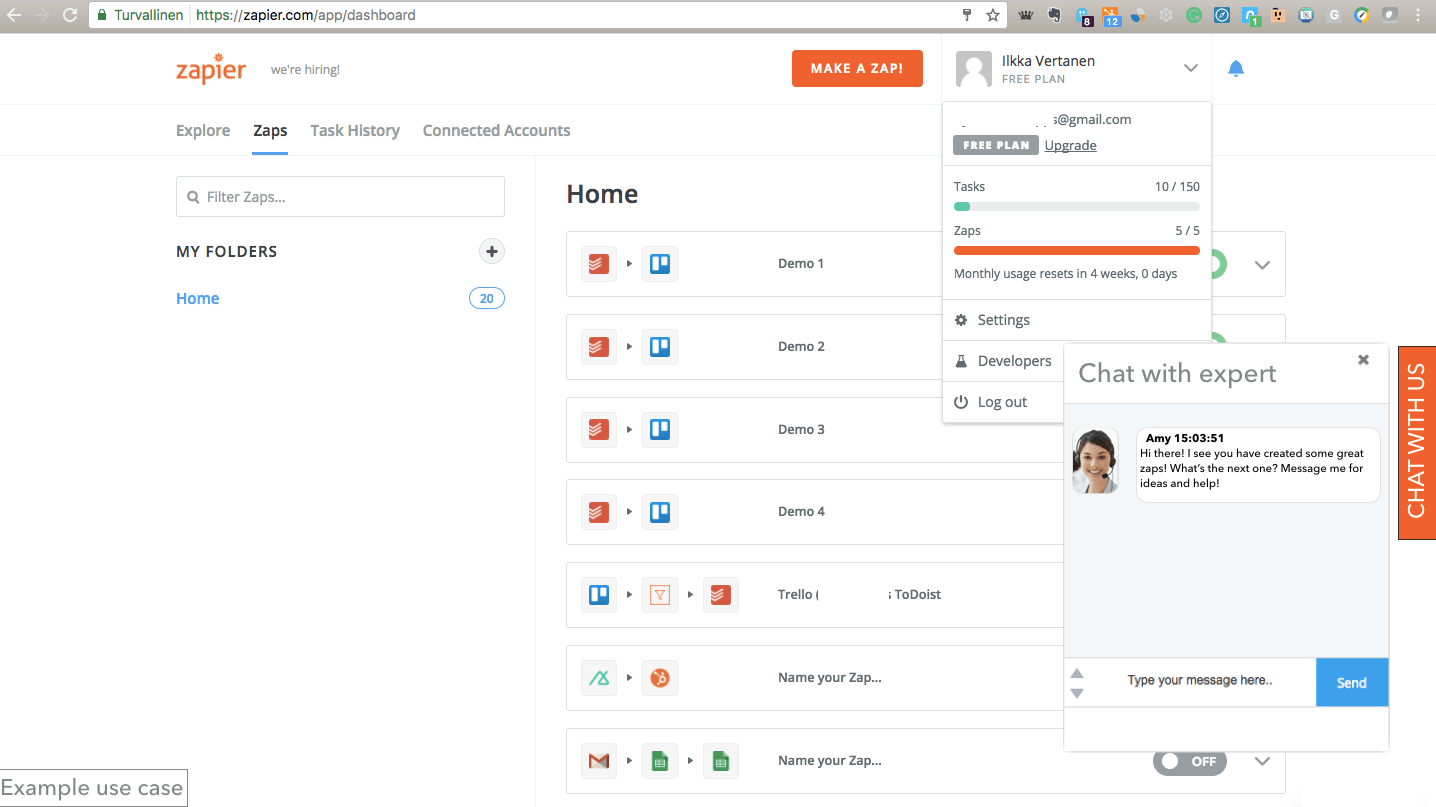 Proactive message after hitting the upper limit of the free plan: "Hi there! I see you have created some great zaps! What's the next one? Message me for ideas and help!"
Goal: Convert the user from free plan to paid tier
Trigger: User has reached the usage limit of the free plan (5/5 Zaps).
Proactive message: Offer assistance and encourage extended use. A sales agent can guide interested users to paid plans once a conversation has been initiated.
How to measure: % chats lead to upgrades (purchases).
Increasing average order value
Live chat is a great tool for upselling! Sales chat can be targeted to buyers whose actions on the website indicate an ability to buy premium. The goal for chat conversation is to convince (through expertise, not by being pushy) buyer to select a premium option.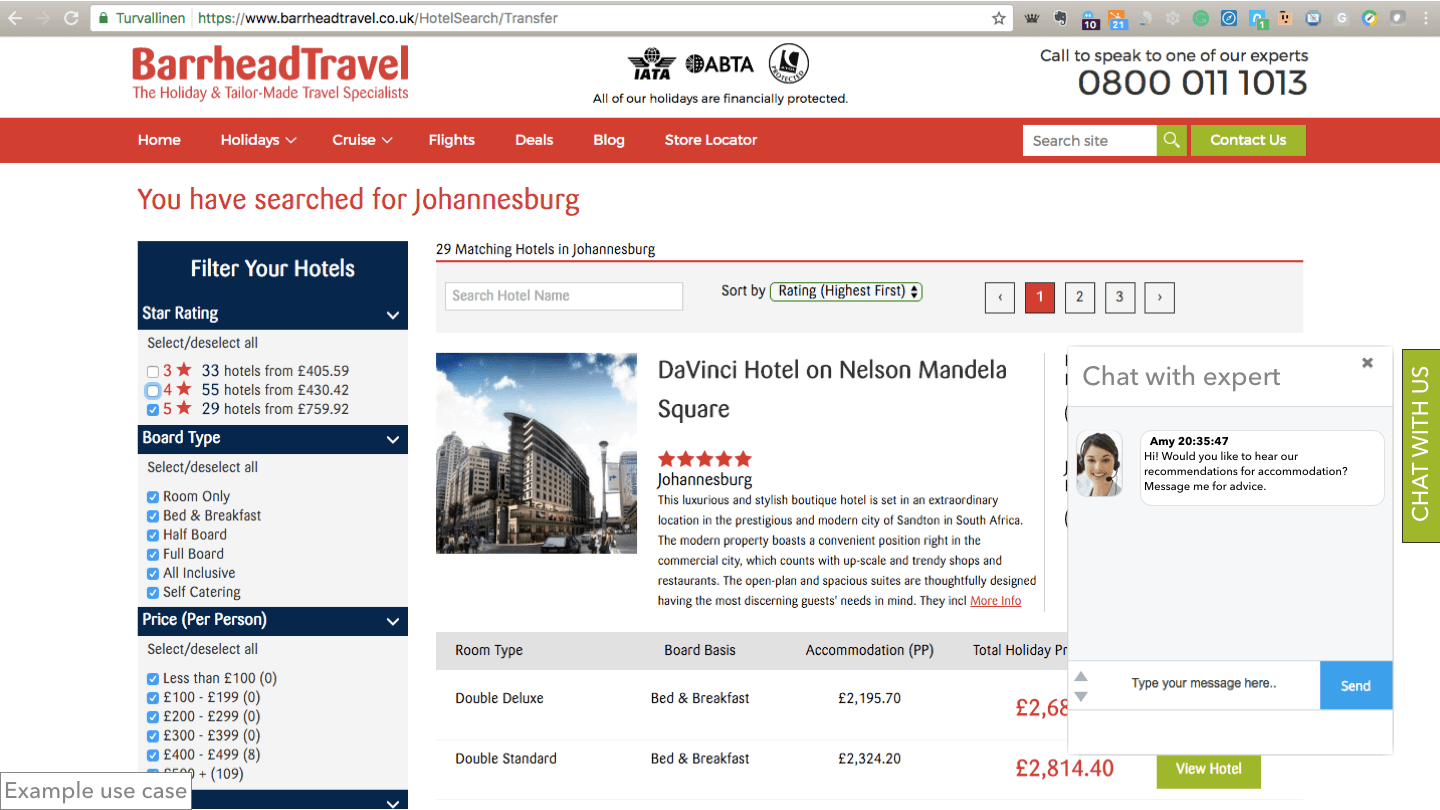 Proactive message to a "big spender": "Hi! Would you like to hear our recommendations for accommodation? Message me for advice."
Goal: Sell a premium option to a big spender.
Triggers: Buyer has made selections indicating upsell opportunity (for example selection of filters).
Proactive message: Offers assistance and recommendations. Relevant to buyer's context.
How to measure: Compare average order values: Orders with chat vs. orders without chat.
These same tips are also available on SlideShare:
I hope these examples help you to set a direction to your sales chat. Do you have a use case not covered here? Post it into comments or get in touch!
---
This blog was originally published on LinkedIn Pulse (April 25, 2017). Read the original here.