In my earlier blog, I drew an analogue between a live chat service and Formula 1: quality matters, speed is of the essence. Now I give concrete examples of how one can improve the quality of live chat operation, in other words, make that metaphorical formula one car go faster. Referring to my previous blog, I give examples for improving both agent experience and customer experience.
To highlight the importance of speed in customer service, Mary Meeker's recent Internet Trends 2017 Report had this to say about customer service: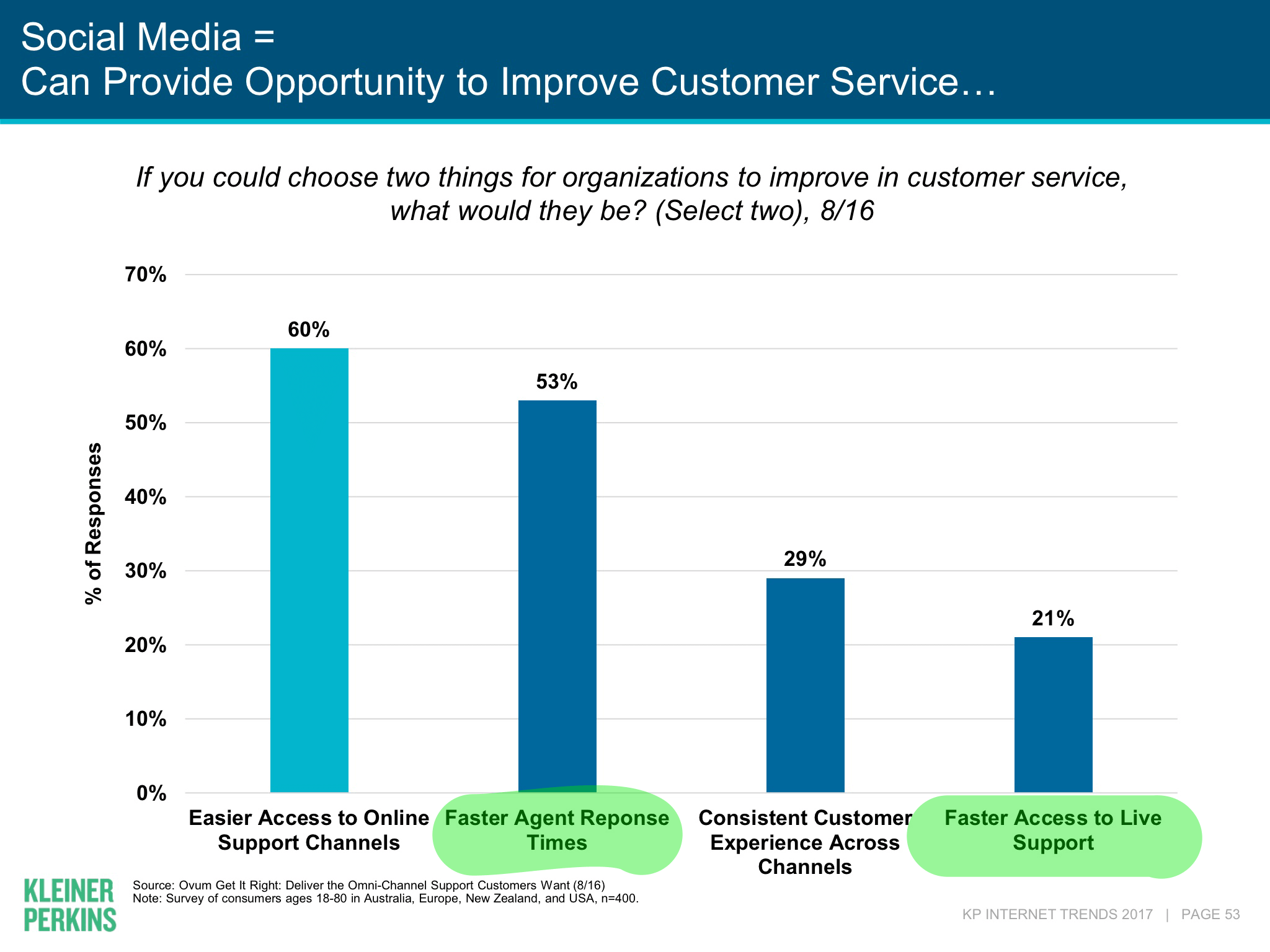 In case you are wondering, I highlighted those two pylons demanding faster response times.
At the beginning of the year, I stated three principles for successful live chat operation in 2017: Direction, Quality, and Quantity. I instructed to hold quality (for an agent and a customer) as a guideline when implementing new tech. In regard to live chat, slow responses and long wait times reduce experienced service quality instantly and massively. Hence the equation quality = speed.
Prioritise quality when improving bells and whistles this year. The money will follow.
Below are few examples of how live chat operation's speed, quality, and overall experience can be improved. Pick yours.
Utilise Shopping Cart Data
In online retail, it is a smart move to link live chat software to e-commerce platform so that data can be transferred between the two. When the agent has knowledge of the content of customer's shopping cart (+ information such as current product page), she can answer questions like "Does this work with my iPad?" without asking additional details ("Could you tell me which iPad you have?"). The agent provides an excellent customer experience by notifying the buyer that the viewed item is not for the same iPad model as the customer has in his cart. In addition, time and money related to shipping an incorrect product are saved.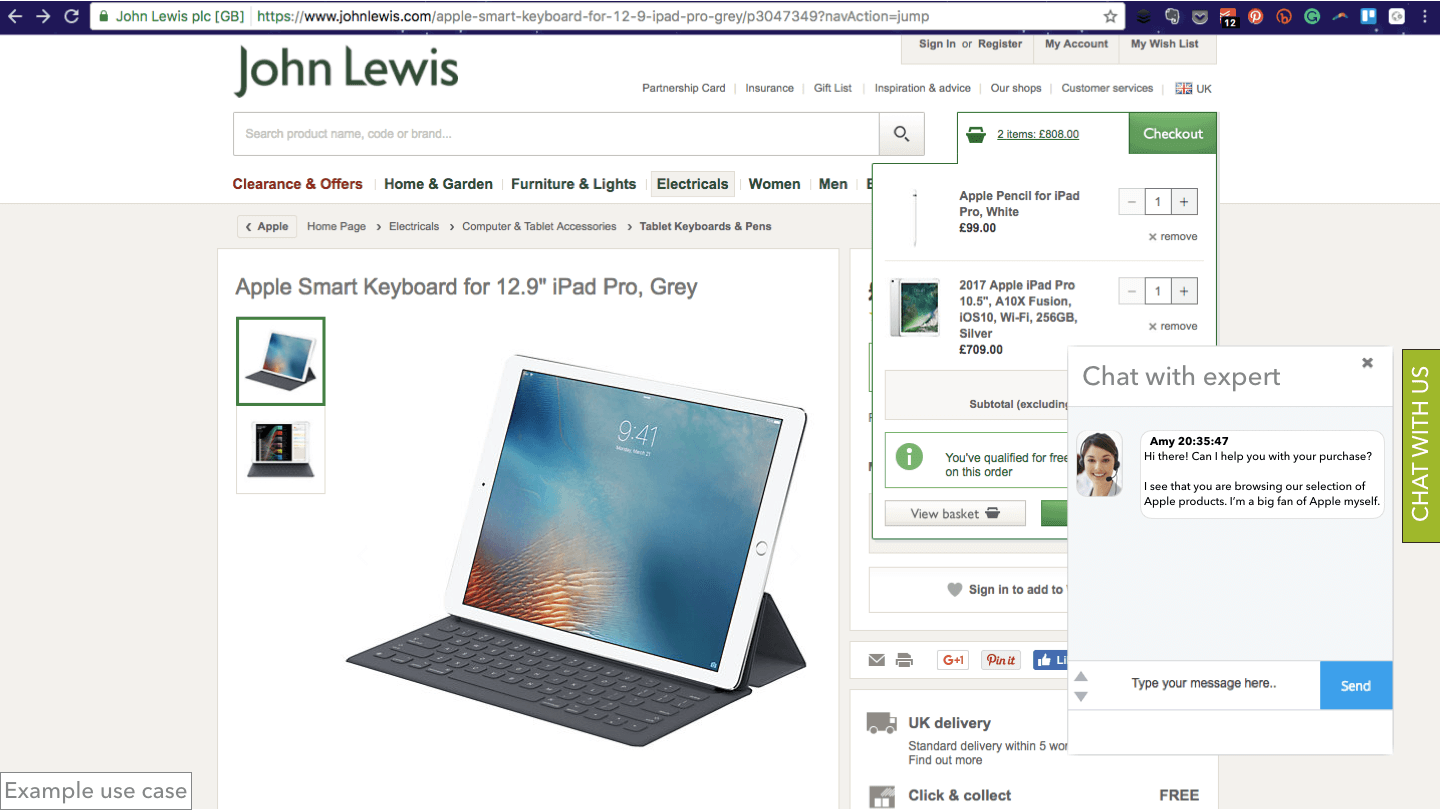 Tech: Sharing the content of customer's shopping cart to a live chat agent. Integration between live chat software and e-commerce platform is required.
Use cases: Targeting proactive live chat based on content and value of customer's shopping cart, and tracking chat-assisted sales (monetary value and products).
Benefits: Live chat agents can provide faster assistance as they can utilise shopping cart data to answers customer enquiries. Knowing the content of customer's cart creates upsell opportunities.
Use customer specific data
Providing assistance to customers who have logged into a client portal, web service, or an e-commerce site can be done with a personal touch when the customer is identified. Once a customer or a user has logged in, their identity can be shared with live chat agent, and customer data can be pulled automatically from company's CRM for the agent to review. Agents who have customer data available can use all the information known about the customer during the interaction to serve or sell. Sales chat agent can use knowledge about the customer to scale up the use of saas service and upgrade free user to paid tier.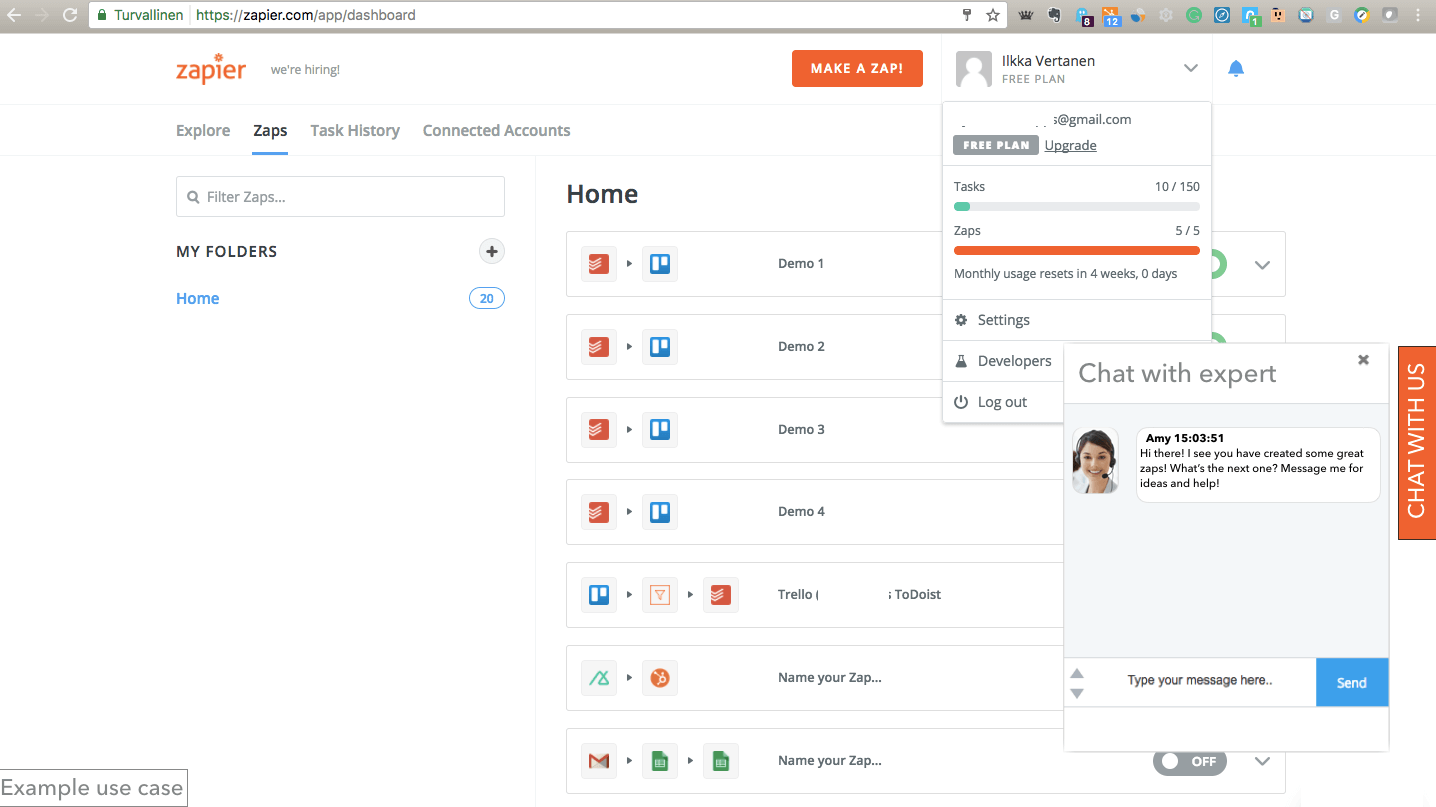 Tech: Sharing the identity of the user to live chat agent. Integration between live chat software, website and CRM is required.
Use cases: Proving fast and personalised service. Agents can view and update customer info without leaving live chat software.
Benefits: Live chat agents can provide faster answers as they can utilise CRM data about the user. Available data opens cross-sell opportunities.
Take advantage of collaborative tools
Cobrowsing enables live chat agent to share (both view and control) customer's journey through the website. In an online store, an agent could navigate customer all the way through shopping process (final acceptance can be left to the buyer). In a case of an insurance company, live chat agent and customer can file a claim together while agent monitors that all the information is provided correctly. One word of warning though! A live chat agent can handle up to 8 simultaneous chats when communication is limited to text based chat. With cobrowsing it is hard, if not impossible, to have more than one simultaneous interaction.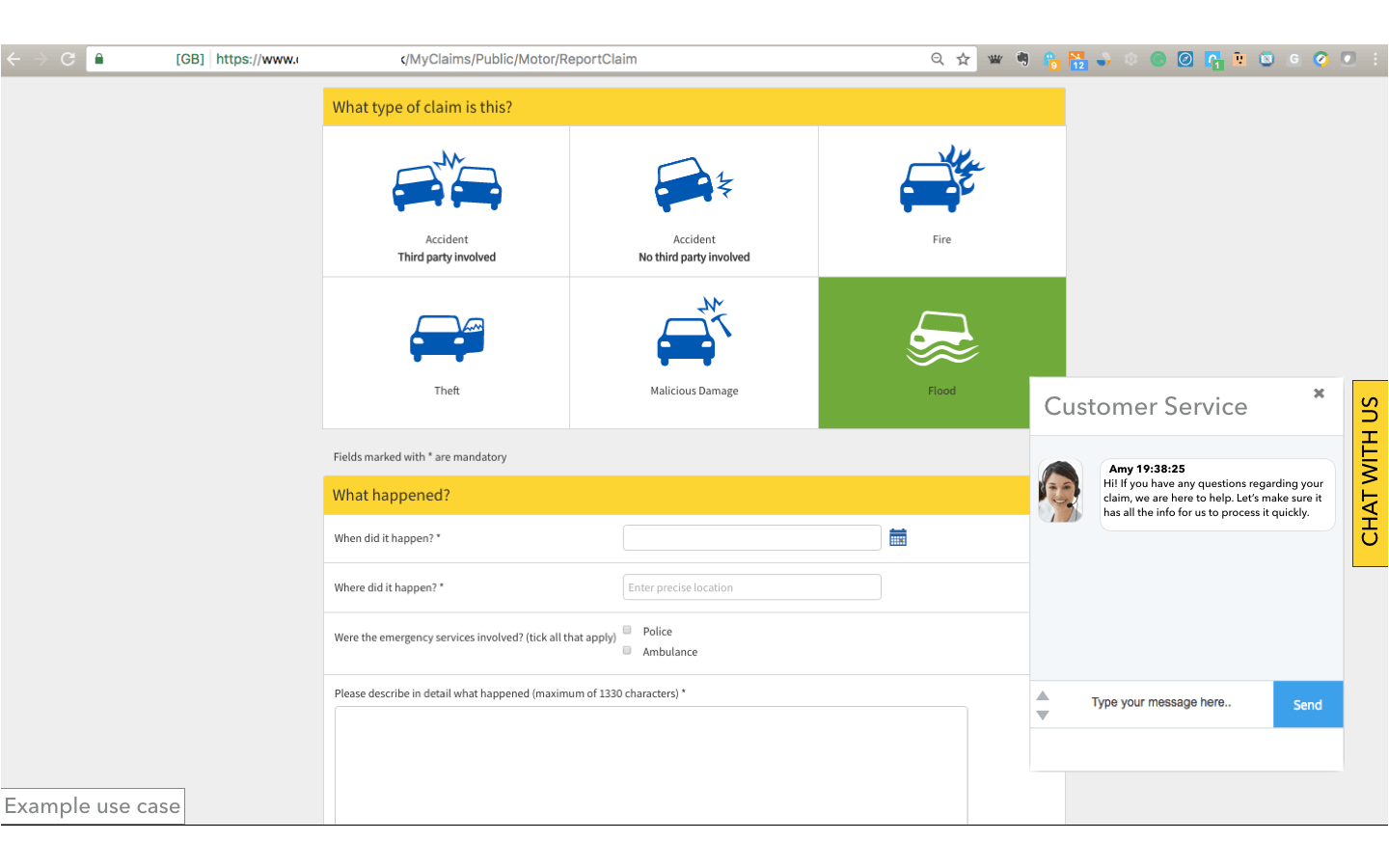 Tech: Cobrowsing. Enabling customer and agent view and edit the same website (they share a browsing session).
Use cases: Providing hands-on assistance with online forms, helping customers to place orders, educating use of a self-service channel, and navigating a website on behalf of the visitor.
Benefits: Makes it easier and faster for an agent to resolve issues as they can take a hands-on approach.
These examples are also available on SlideShare:
For more content like this check out how to use proactive chat to improve customer service effectiveness and boost sales.
One more thing I feel obligated to mention (again):
Don't force your chat agents to follow a certain script and use canned answers. Agents are humans, not robots. Let it show.
Customers do appreciate a personal touch, and it is more than okay for agent's personality to show. So speed at the price of humanity is not worth it.
I just finished reading Delivering Happiness (the story of Zappos) highlighting fantastic customer experience as a source of competitive advantage. (By the way, that book is absolutely worth reading!) Delivering Happiness emphasised why Zappos employees don't use scripted conversations when interacting with customers (regardless of the channel) and how that approach helps them to deliver memorable customer experiences. This type of customer interactions can also be good publicity. Here is an example of excellent customer experience (from Amazon, owner of Zappos) provided by a live chat agent gone off script and having a bit of fun with a customer!
Let's chat: How you improve the quality of your live chat operation?
---
This blog was originally published on LinkedIn Pulse (June 26, 2017). Read the original here.